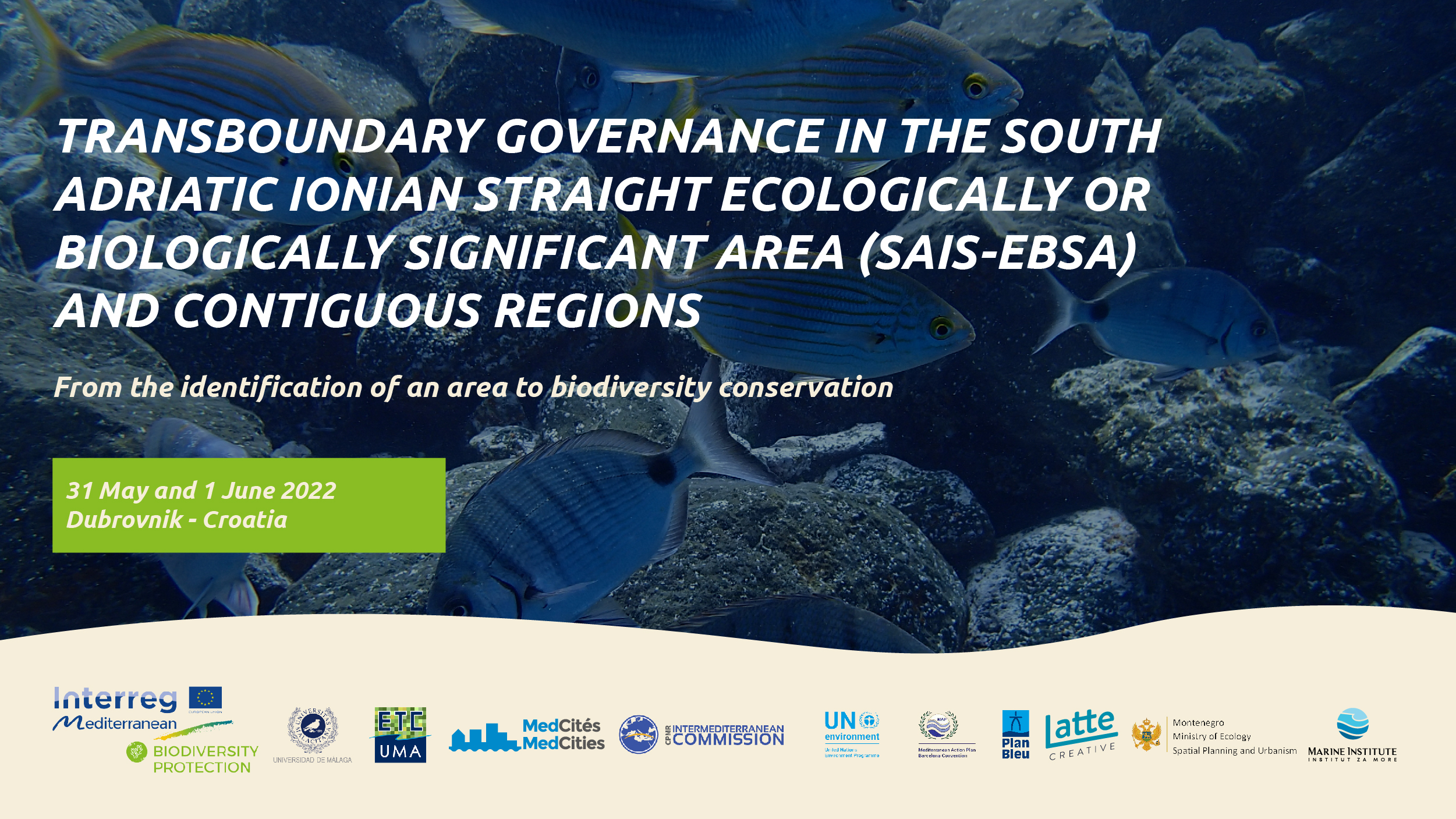 Workshop on 'Transboundary Governance in the SAIS-EBSA and Contiguous Regions' – Dubrovnik, 31 May – 1 June 
After a long period of online meetings and conferences, we are finally hosting an in-person workshop on 'Transboundary Governance in the SAIS-EBSA and Contiguous Regions: From the Identification of an Area to Biodiversity Conservation' that will be held on 31st of May and 1st of June in Dubrovnik, Croatia. The organisers of this workshop are the Marine Institute (Croatia), MedCities (Spain) and ETC-UMA (Spain) – partners of the Interreg MED "Mediterranean Biodiversity Protection Community (MBPC)" project.
This workshop builds on recommendations from the 2019 workshop 'Managing Transboundary Impacts In Priority Areas: Towards an Action Plan for Ecosystem-based Management (EBM) in the Southern Adriatic Sea Ecoregion' and outcomes of the 2021 workshop 'Managing Transboundary Priority Areas: Towards a governance mechanism on the conservation of the south Adriatic-Ionian marine ecosystem'.
In an ongoing discourse on how to facilitate a transition from the identification of an ecologically and biologically significant area in the south Adriatic/north Ionian Sea (SAIS-EBSA) to concrete biodiversity conservation actions, this workshop will focus on facilitating the debate around two main and interconnected aspects:
How to move beyond the recognition of the SAIS-EBSA as an ecologically important area to assist national authorities prioritizing conservation policy in the region fostering a multilevel governance approach?
How to mainstream conservation for positive coexistence between the economic sectors and the sensitive species and habitats found in the region, utilizing the existing regional governance initiatives, particularly the EUSAIR work-plan and the UNEP/MAP-SPA/RAC relevant activities?
This will be the first official event of the SAIS-EBSA Conservation Community (SECC), hence to facilitate the widest possible participation, the workshop will be made available online and open for remote participation.