MBPC ("PANACeA2")
The Med Biodiversity Protection Community/MBPC ("PANACeA2") is a horizontal project whose activities aim at strengthening management of & cooperation among protected areas (PAs) and ecoregions & to influence the dialogue science-management-policy as tools to increase capacities for nature conservation & monitoring. The project builds on PANACeA's streamlining mechanism to ensure an active community of Mediterranean actors meant to overcome sectoral borders by integrating knowledge, allowing a better informed multilevel decision-making and management of biodiversity.
The MBPC facilitates multisectoral dialogue with the scientific community to ensure an effective policy-management-science interface in the Mediterranean related to biodiversity protection and sustainable development. It pursues the long term strategic goal of the Interreg MED programme by reaching beyond EU Member States into the whole Mediterranean basin. It aims to feed EU, UNEP/MAP Barcelona Convention and CBD policies linked to the protection of natural resources for sustainable development in Mediterranean protected areas and key ecological function units and ecosystems.
To reach its objectives, the BPC ensures guiding two types of processes for an uptake by regional policies to support them reaching their targets to 2020 and to prioritise their policy aspirations beyond 2020 through enforced and well managed PAs network and working beyond MPAs with an ecosystem approach to address major types of pollution and climate change effcts
The project started in November, 2019, and will last till June , 2022 (32 months). Lead Partner organisation is University of Malaga – European Topic Center (Spain), and project partners are Conference of peripheral maritime regions of Europe (France), Plan Blue for Mediterranean environment and development (France), MEDCITIES (Spain), Ministry of Sustainable Development and Tourism (Montenegro), LATTE CREATIVE S.R.L. (Italy), and Marine Institute (Croatia). 
MI has worked closely with Blue World Institute (BWI, Croatia) and the Croatian Natural History Museum organising workshops, lectures and public awareness activities as part of the LIFE Euroturtles project, EMFF MarGnet project and Interreg Italy-Croatia Soundscape and ECOSS projects. As the MI is a public equivalent body founded by the BWI and the City of Mali Lošinj it can upon the non-governmental and governmental networks of these two organisations to ensure the widest transfer of the results of this project through local and regional events, projects and campaigns and working meetings. This structure combines logistical support of the BWI and the financial support of the local public municipality.
The Marine Institute will contribute to the project by sharing and exchanging knowledge and best practices with a community of stakeholders interested in biodiversity conservation and management measures particularly in the Adriatic region.
Visit the official MBPC website: https://biodiversity-protection.interreg-med.eu/.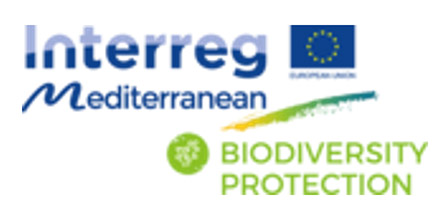 Project co-financed by the European Regional Development Fund